Home » Alumni & Friends » How to Give

How to Give
The involvement of our alumni and friends has made a very meaningful difference to the quality of our undergraduate and graduate experience, our ability to recruit the best faculty and graduate students, and our ability to launch new research initiatives and community outreach efforts. Every gift counts and every gift is put to good use.

Online Giving - The University of Texas at Austin's online giving website is a secure, safe way to make gifts to UT using your credit card.
» Make a gift to the School of Biological Sciences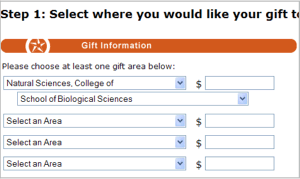 If you would like your gift to be used for a specific purpose, please specify this in the comment field.

Giving by Mail - You may also mail checks, made payable to: "The University of Texas at Austin", to the address below. Please include instructions for use, as well as your full name and address, so that we may acknowledge your gift and send you a tax receipt:

School of Biological Sciences
The University of Texas at Austin
100 E. 24th Street Stop A6500
Austin, TX 78712-1598

Gift Matching - Double or triple your donation! Many companies will match the charitable contributions of their employees, as well as spouses of employees and retired employees. Find out if your company has a matching gift program.
---
Types of Giving

Planned Gifts - Many individuals make a significant impact on research and education by supporting the School of Biological Sciences through their estates.

Endowments are the gifts that keep on giving. The funds are invested by the UT System, and the interest generated by that investment is used for the purpose you wish to support—financial aid, merit awards for students, supplemental salary support for faculty, research and more. A portion of the income is re-invested each year, enabling the endowment to continue to grow and provide a predictable, stable stream of income over time.
Faculty support endowments are another vital resource to our academic programs. These prestigious endowments, including chairs, professorships and faculty fellowships, allow us to recruit and retain the most talented teachers and researchers.
For information about planned gifts and endowments, please contact:
Associate Director for Development
School of Biological Sciences
ph: (512) 232-4553 | fax: (512) 232-3699
She will be happy to answer any questions you may have regarding endowments or planned gifts at the University.
See also: College of Natural Sciences Giving Opportunities
---
On behalf of our students, staff and faculty,
thank you for your kind and generous support.