Howard Given National Award at Research Society on Alcoholism's Annual Meeting
By: Steve Franklin | Posted: Tuesday, August 14th, 2012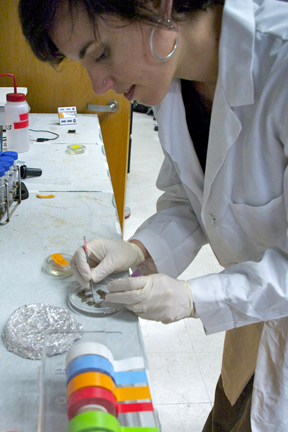 Dr. Rebecca "Reba" Howard
AUSTIN, Texas – In June, Dr. Rebecca "Reba" Howard, a Postdoctoral Fellow of the School of Biological Sciences, was given a national award at the Research Society on Alcoholism's 35th Annual Scientific Meeting in San Francisco, California. Dr. Howard received the Enoch Gordis Research Recognition Award, which comes with a plaque and a $2,000 check, for her research poster and symposium presentation.
Dr. Howard, who attended the RSA meeting with the assistance of the SBS High-Flyer Award Postdoctoral Travel Grant, presented her work on a promising bacterial receptor protein. This protein is similar to, but simpler than, receptors in the human brain that are targeted by alcohol. Howard and her colleagues have shown that alcohol affects this bacterial protein in much the same way as it affects the human receptors, allowing it to be used as a model. The protein's simplified properties allow for a better understanding of the atomic interactions that allow alcohol to bind to receptors, something that was previously hard to do, given alcohol's unique chemical properties. Ultimately, this innovative approach will provide critical insight into alcohol action in the brain, which can be applied to genetic studies and drug development to address the widespread problem of alcohol abuse and dependence.
Dr. Howard's study included a number of co-authors, including three SBS undergraduates: Kathryn Ondricek, Suzzanne Horani, and Ui Lee. Ondricek and Horani both graduated this past spring and Lee is on target to graduate this fall. Dr. Adron Harris of the Section of Neurobiology and the Waggoner Center for Alcohol and Addiction Research was another co-author, as were researchers from the Institut Pasteur in Paris, France, from the Kungliga Tekniska Högskolan (aka the Royal Institute of Technology) in Stockholm, Sweden, and from the Stanford University School of Medicine in California.
The Enoch Gordis Research Recognition Award is named after Enoch Gordis, M.D., a former director of the National Institute on Alcohol Abuse and Alcoholism (NIAAA). This award is given by the Research Society on Alcoholism and the NIAAA in recognition of outstanding biomedical and psychosocial research among early career members of RSA.
Dr. Howard will be joining the faculty at Skidmore College in Saratoga Springs, New York in fall of 2012.
UPDATE (8/15/2012): We were recently informed that one of the undergraduates that worked with Dr. Howard, Ui "Danny" Le, has received an Undergraduate Student Travel Award from the Society for Neuroscience. The award will allow him to present his piece of the study at the Society's national meeting in October.