Howard and Vidal-Gadea Inaugural Recipients of New Postdoctoral Award
By: Mervin Malone | Posted: Friday, June 22nd, 2012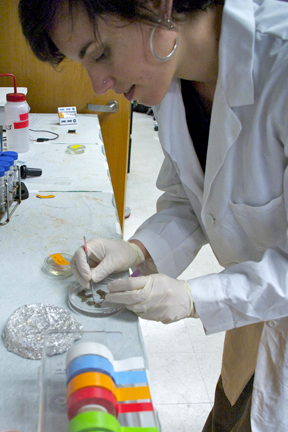 Dr. Rebecca "Reba" Howard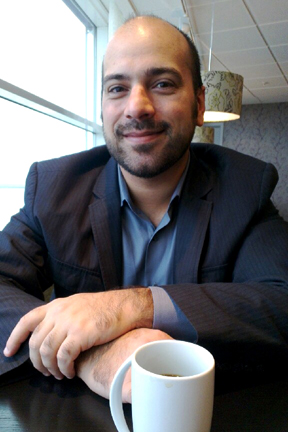 Dr. Andrés Vidal-Gadea
AUSTIN, Texas – In May, two Postdoctoral Fellows of the School of Biological Sciences became the inaugural recipients of the newly-christened, SBS High-Flyer Award Postdoctoral Travel Grant. Drs. Rebecca "Reba" Howard and Andrés Vidal-Gadea – both of the Waggoner Center for Alcohol and Addiction Research – are the first awardees of this unique honor. The award contributes $500 in paid financial support toward a postdoctoral beneficiary's travel expenses in relation to a scientific conference.
"I'll be going to the Research Society in Alcoholism conference at the end of next month in San Francisco to present my research," Reba Howard said. "I'm also a candidate for an award at that event. So, this is giving me an opportunity to compete for recognition at the national level, so I'm really grateful for that."
Howard works in the lab of Professor R. Adron Harris, Director of the Waggoner Center for Alcohol and Addiction Research and faculty member in the Section of Neurobiology, and has been with the University for 3 ½ years.
"When I came here, there was very little going on for postdocs," she said, "and I've been excited to see how resources have grown in the last few years. And having recognition awards like these, I think, make a huge difference – in making postdocs feel like we're appreciated by the University, while also enhancing our opportunities to present research and to support our next career steps."
Dr. Vidal-Gadea echoed those sentiments.
"I think it's wonderful," he said. "I'm very grateful to the School for setting up the award because, often-times, you may need to go to a conference, and – in my case – I work in a lab, yes – and my interests are overlapping the one's of the lab, but not necessarily 100%. So, if I want to go to a conference that is outside of the realm of what we do in the lab, I always feel a level of guilt in having to ask for funding to do just that." He continued: "Having his award means that I can feel comfortable pursuing something that is for my personal experience and benefit, and not necessarily the lab. And it's also really great to receive a little bit of recognition for the work that we postdocs do."
Andrés has been with the UT School of Biological Sciences since 2009 and works in the lab of Professor Jonathan Pierce-Shimomura – also of the Waggoner Center and the Section of Neurobiology.
"I'm actually looking to start applying for jobs in the fall, and every little bit of recognition helps," he continued. "Anytime somebody believes in you enough to provide some sort of official backing, then it tells all of your job and career prospects that they should take an interest in you."
The SBS High Flyer Award is the culmination of the hard work and collaboration between School faculty and the SBS Postdoc Association. Professor Sara Sawyer, who serves as the faculty advisor for the Post Doc Association under the School of Biological Sciences, explained.
"We have a lot of ways that we acknowledge graduate students here," Sawyer said. "In my department alone, we have a research award called the Golden Microbe Award and we have some travel grants, but all of that stuff is for graduate students. My mission is to try to help postdocs in the School of Biological Sciences gain some recognition, and to increase their visibility on campus. Postdocs are not often given proper attention because this is a university and our job is to train students – undergraduate and graduate students. But the interesting thing is – if you get a Ph.D. in biology in today's job market, you can forget about getting a job if you haven't had any kind of postdoctoral experience; it's basically mandatory at this point. As such, we have to support that part of their training as well. Only in recent times, maybe 10-20 years – and especially in biology – has the postdoc position become such an important part of the training process.
"It is critical to our University that we attract and retain the very best postdoctoral researchers that we can. These are the most highly-trained researchers on our campus, and are also the people that will go off and get faculty positions at other Universities. This makes UT look good! Postdocs also bring in national money to the state of Texas, through winning postdoctoral fellowships and by helping to generate key data that make the grants of our faculty more successful. Finally, they are important role models for younger researchers in the lab. So, I just feel that these postdocs need to be supported and recognized."
Professor Sawyer, who also serves as the chair for the High Flyer Award selection committee, said support from the Director – Professor Henry "Hank" Bose – has been essential in the establishment of this honor.
"The thing that I hear over and over again (from postdocs) is that they just want to be acknowledged. Hank Bose has been a champion for postdocs here since the very beginning," she continued. "I wasn't here when the SBS Postdoc association was first being organized, but I know that it started when a few of them got together and began searching for a home, either at the university-level, or within Natural Sciences, or the School of Biological Sciences – and it was really Hank that was responsive to them. He said that he could give them some support and asked what they needed. They originally started out with a once-a-month pizza gathering where they could hold career enrichment events – inviting speakers to talk with them about job prospects, or how to write a good CV – the kinds of things they need because their next step is getting a job. They (the postdocs) allied themselves with the School of Biological Sciences and designed their entity to encompass the whole School and all of the departments that Hank sits over. Hank has now stepped forward and established this award for them. As far as I am aware, this may be the first award on this entire campus acknowledging our excellent postdocs. I hope that we see more of these established in the future." For awardees Andrés Vidal-Gadea and Reba Howard, the long-awaited recognition comes as both an affirmation and a relief, and heralds great new directions for both the School of Biological Sciences, as well as the University-at-large.
"One thing that I really appreciate is the new push by the Postdoc Association – which has evolved from just sort of a club, where people just meet – to something else entirely that actually has a relationship with the University and the department," Dr. Vidal-Gadea said. "This award is kind of the first step at cementing that relationship. This affirms that – yes – we are part of the UT community and are important and contribute scientifically and economically to the UT community."
Howard summarized the award's potential benefits.
"I've been pretty active with the Postdoc association for the School of Biological Sciences in the past few years, we've worked hard to make this happen," Dr. Howard said, "and I think this will make a big difference in recruiting good researchers to UT – as postdocs, as well as graduate students. I think we postdocs make important contributions to the University, and I hope this award will be a valuable way to make sure people know about that role."