Verne Grant (1917 - 2007)
Verne Grant – a longtime member of The University of Texas at Austin's Botany Department and a Professor Emeritus of the Section of Integrative Biology – passed away on Tuesday, May 29, 2007. He was 89.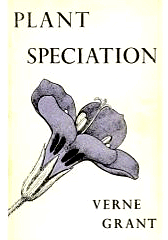 A pioneer of plant speciation, Grant's first paper – published in 1949 – provided the first credible model for sympatric speciation based on the constancy of pollinator behavior.
His influential book, "Plant Speciation" – originally published in 1971 – remains a definitive authority on the subject. In 1975, he [Grant] published "Genetics of Flowering Plants" – which is recognized as the most important synthesis of evolutionary genetics in angiosperms to date.
Publications by Verne Grant: Google Scholar