Biology Postdoctoral Researcher Awarded Grant By Knights Templar Eye Foundation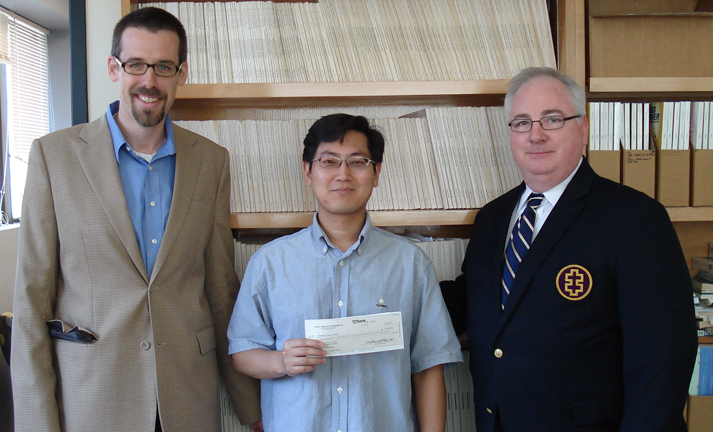 Jiwoon Lee is presented a check by a representative of the Knights Templar Eye Foundation. On the left is Dr. Jeff Gross and in the middle is Dr. Jiwoon Lee.
September 14, 2011
AUSTIN, Texas — The Knights Templar Eye Foundation has awarded a $36,000 Pediatric Ophthalmology Career-Starter Research Grant to Dr. Jiwoon Lee, a postdoctoral researcher in the laboratory of Dr. Jeff Gross of the Section of Molecular Cell and Developmental Biology. The one-year grant is designed to support research and help launch the careers of clinical or basic researchers committed to the prevention and cure of potentially blinding diseases in infants and children.

Dr. Lee will be researching a congenital eye defect known as a coloboma. A coloboma is a cleft, or hole, in the eye and can occur when the choroid fissure in the developing eye fails to close properly. While colobomas are sometimes minor, causing only cosmetic defects, usually they lead to blindness. The incidence of this condition varies depending on the country. In the United States it occurs in 2.6 out of every 10,000 births, while in China the rate of occurrence increases to 7.5 in 10,000 births. Colobomas are found in 3-10% of all blind children worldwide. Unfortunately, little is known about choroid fissure closure and how it goes awry, leading to such maladies.

This is where Dr. Jiwoon Lee steps into the picture. He proposes to study eye development in the model organism known as the zebrafish. Since major aspects of eye development are conserved between humans and zebrafish, many disrupted genes and pathways required for formation of the zebrafish eye produce defects that resemble human eye disorders, including colobomas. Dr. Lee will examine two zebrafish "mutants" that develop colobomas, identify the mutated gene, and then determine how the protein encoded by this gene functions during choroid fissure closure. A better understanding of the molecular and cellular mechanisms behind this process will improve our understanding of colobomas and lead to improved therapeutic options for children suffering from this debilitating disease.

Jiwoon Lee received his Ph.D. in December 2010 from the Cell and Molecular Biology Graduate Program here at the University of Texas at Austin.

The Knights Templar Eye Foundation is dedicated to supporting research that can help prevent and cure potentially blinding diseases in infants and children. They focus on conditions that can be treated or prevented, including examples like amblyopia, congenital cataract, congenital glaucoma, retinopathy of prematurity, ocular malformations, congenital nystagmus, and other hereditary eye diseases such as retinal dystrophies or retinoblastoma.

Posted by Steve Franklin