They Blinded Me With Science
Jacob Soule
Plant Biology Graduate Program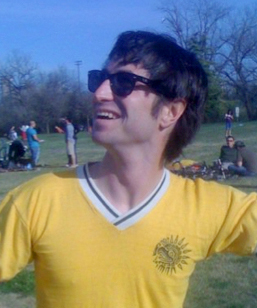 Jacob Soule, a student in our Plant Biology Graduate Program, was featured on KVRX 91.7, the UT Radio Station. He was a guest on the They Blinded Me With Science radio show on February 6th, 2012 at 8:30PM. Jacob talked about some of the bizarre ways that animals and plants have coevolved for pollination. The appearance was a precursor to his Science Under the Stars talk, "Partners in Pollination," which was presented just a few nights later. You can find out more about Science Under the Stars here.
Since 2008, They Blinded Me With Science has been home to the best of science news and current events. Hosted by DJ's Ganglion, Perihelion, Anticodon, Chrysalis & Cyclohexane MONDAYS on KVRX 91.7, they bring you the best of science news, taboos, don't and do's, along with special guests, interviews and journal reviews. They cover everything from physics to hardcore genetics, amyloid plaques, supercomputers, mutants, androids, genetic experiments gone wrong, ecological nuances, science history and even modern takes on the science of kissing! You can find out more here.
Since we know many people were not able to make it to the Science Under the Stars lecture, or hear Jacob on They Blinded Me With Science, we would like to present a streaming copy of Jacob's interview for your education and entertainment, courtesy of KVRX. The show is roughly 25 minutes long and can be streamed below. Jacob starts talking about 3 minutes from the beginning. Enjoy!
They Blinded Me With Science at 8:30 PM, 2/6/2012 on KVRX 91.7
Posted by Steve Franklin