Congratulations to Our 2012 Teaching Assistant Award Winners!
On Thursday, May 10th, the School of Biological Sciences held its annual Teaching Assistant (TA) Award ceremony. Out of over 300 TAs that were appointed over the past year, we had 25 TAs nominated for this honor, but could choose only 10 to win the award. The list below includes all of the TAs who were nominated, the names of those faculty members who wrote letters of nomination, and the courses the TAs helped teach. The TAs who were chosen by the selection committee to receive a TA Award are in bolded green text and can be seen in the photo below. Every one of these students has demonstrated exceptional qualities in the classroom.

We would like to thank these TAs, both the award winners and those nominated, for being outstanding teaching assistants. TAs are an integral part of the teaching experience and you have gone above and beyond what has been asked of you. Thank you!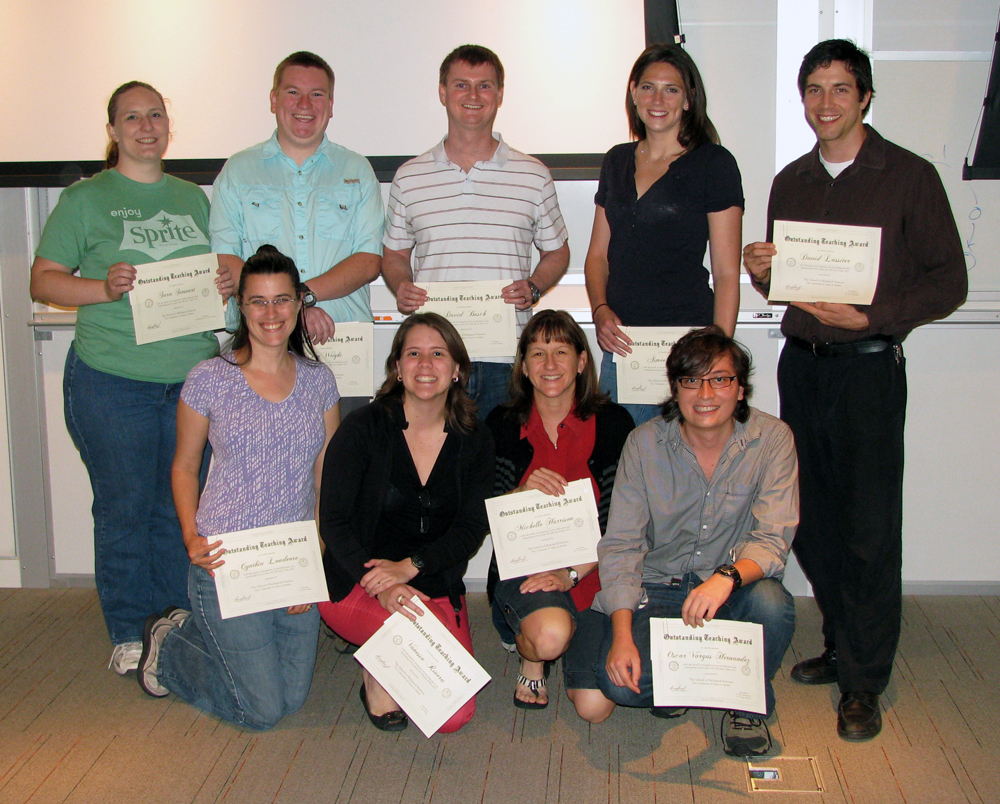 The 2012 Scool of Biological Sciences TA Award Winners. Top row (from left to right): Sara Stewart, Ian Wright, David Busch, Aimee Wessel, David Lassiter. Bottom row (from left to right): Cynthia Londeore, Vanessa Rivera, Michelle Harrison, Oscar Vargas Hernandez. Not shown: Jina Sorensen. More photos from the awards ceremony can be found here.
Teaching Assistant
Nominator(s)
Class(es)
Class Title(s)
Matt Ashworth
Bill Allen
BIO 205L
Lab Exp Bio: Cell & Molec Bio
David Busch
Jennifer Morgan
BIO 320L
Advanced Cell Biology Laboratory
Gina Calabrese
Eric Pianka
BIO 357
Evolutionary Ecology
Michelle Harrison
Dee Silverthorn
BIO 446L
Human Microscopic and Gross Anatomy
Katie Hudspeth
Lynne McAnelly
BIO 365S
Vertebrate Physiology II
Marguerite Hunt
Jan Machart
BIO 371L
Experimental Physiology Lab
David Lassiter
Lynne McAnelly
BIO 165U
Systems physiology laboratory
Jan Machart
BIO 165U
Systems physiology laboratory
Sun Hee Lee
Pratibha Saxena
BIO 126L
Introductory Microbiology Laboratory
Pratibha Saxena
BIO 326M
Introductory Microbiology: Medical Microbiology
Cynthia Londeore
Anita Latham
BIO 311C
Introductory Biology I
Jacob Malcom
Marguerite Hunt
BIO 340L
Biology of Birds
Kalpa Mehta
Barbara Moore
BIO 326M
Introductory Medical Microbiology and Immunology
Melissa Merscham-Banda
Jan Machart
BIO 371L
Experimental Physiology Lab
Marisa Miller
Suzanne Barth
BIO 361L
Public Health Bacteriology Laboratory
Ginnie Morrison
Kay McMurry
BIO 208L
Field Biology
Jidy Mulekar
Pratibha Saxena
BIO 126L
Introductory Microbiology Laboratory
Pratibha Saxena
BIO 326M
Introductory Microbiology: Medical Microbiology
Pratibha Saxena
BIO 326R
Introductory Microbiology: Medical Microbiology
Gayathri Ranganathan
Wes Thompson
BIO 365R
Vertebrate Physiology I
Vanessa Rivera
Jose Panero
BIO 301M
Ecology, Evolution and Society
Laura Sanders
Jennifer Moon
BIO 311D
Introductory Biology II
Roger Shaw
Kay McMurry
BIO 208L
Field Biology
Jina Sorensen
Bill Allen
BIO 205L
Lab Exp Bio: Cell & Molec Bio
Hans Hofmann
BIO 206L
Lab Exp in Bio: Struc/Func of Org
Sara Stewart
Bill Allen
BIO 206L
Lab Exp in Bio: Struc/Func of Org
Hans Hofmann
BIO 206L
Lab Exp in Bio: Struc/Func of Org
Oscar Vargas Hernandez
John Batterton
BIO 325L
Genetics Lab
Thomas Bushart
BIO 325L
Genetics Lab
Tharindu Weeraratne
Mona Mehdy
BIO 331L/395
Lab Studies in Molecular Biology
Aimee Wessel
Richard Meyer
BIO 126L
Introductory Microbiology Laboratory
Ian Wright
John Abbott
BIO 453L
General Entomology
John Abbott
BIO 353L
Field Entomology
Posted by Steve Franklin