John Ring LaMontagne Chair in Infectious Diseases and Global Health Endowment Reaches $1 Million Goal
By: Steve Franklin | Posted: Monday, March 25, 2013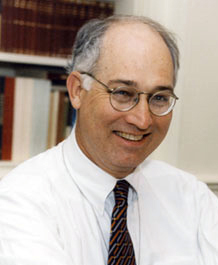 Dr. John Ring LaMontagne
AUSTIN, Texas — The John Ring LaMontagne Chair in Infectious Diseases and Global Health endowment was created by the College of Natural Sciences to honor Dr. John Ring LaMontagne, a man who helped advance science to fight many of the world's most devastating diseases: influenza, tuberculosis, malaria, whooping cough, swine flu, childhood diarrhea, pneumonia and AIDS. The endowed chair recently reached the goal of $1 million, thanks to gifts and pledges from over 70 individuals, corporations, and foundations. Now that the endowment is fully funded, the LaMontagne Chair will support a talented faculty member performing globally relevant, cutting-edge research in infectious disease in the College of Natural Sciences at The University of Texas at Austin.
"John was passionate and dedicated to making this a healthier world," said Elaine LaMontagne, John's widow, "I know he would be truly honored and pleased with this prestigious chair that bears his name at his beloved alma mater. This is an exceptionally fitting tribute to John."
John received his bachelor's and master's degrees in microbiology at UT Austin and received his Ph.D. at Tulane University. He joined the National Institutes of Health (NIH) in 1976 as its first Influenza Program Officer at the time of the swine flu crisis. John later became director of the Division of Microbiology and Infectious Diseases in the National Institute of Allergy and Infectious Diseases (NIAID). He was ultimately appointed Deputy Director of NIAID, a position he held until his passing on November 2, 2004. Throughout the years, John remained close to UT Austin by working with its faculty through NIAID and by serving as a loyal and generous alumnus.
John was a true hero of public health and, through his work at the NIH, championed science that helped millions of people both in the U.S. and internationally. He made significant contributions to the national and international effort against emerging and re-emerging infectious diseases, including biodefense-related activities. He helped organize the Multilateral Initiative on Malaria, an international effort between the U.S., Europe, and Africa. John advised vaccination efforts by the World Health Organization and the vaccine research implementation programs of the Pan American Health Organization. He served as a member of the board of the Global Alliance for Tuberculosis Drug Development. The efforts listed here were but a small part of the work that John accomplished during his lifetime and the impacts of his actions will leave a lasting legacy.
LaMontagne's distinguished leadership in the field of infectious diseases earned him international recognition, numerous accolades, and widespread appreciation and admiration from colleagues and the public. While the recognition and accolades he received spanned the globe, one item in particular stands out. In January 2010, the Dr. John R. LaMontagne Research Center in the community of Banacoumana, Mali, Africa, was dedicated in his honor. During this special occasion the President of Mali bestowed the high honor of Chevalier of the Nation posthumously to LaMontagne. The dedication of this center to John's memory helped mark 20 years of cooperation between the University of Bamako School of Medicine, Mali and NIAID/NIH in the U.S. The research conducted in Mali has led to significant advances in the fight against malaria, HIV/AIDS, and tuberculosis. On the day of the dedication, a thousand children surrounded the center chanting "John LaMontagne," waving U.S. and Mali flags, and many were wearing shirts bearing John's picture.
We are fortunate that LaMontagne's family, friends and colleagues came together to launch the fundraising campaign for this endowed chair. Their dedication led to the endowment reaching its $1 million goal. As a UT Austin alumnus, John was vocal about the need for the university to conduct more research into infectious diseases and the John Ring LaMontagne Chair in Infectious Diseases and Global Health will undoubtedly help in this endeavor.
For more information on contributing to the John Ring LaMontagne Chair in Infectious Diseases and Global Health, contact Kay T. Thomas, Associate Dean for External Relations, at thomaskay@austin.utexas.edu or at 512-471-3299.