Congratulations to Our 2013 Teaching Assistant Award Winners!
On Tuesday, May 14th, the School of Biological Sciences held its annual Teaching Assistant (TA) Award ceremony. Out of over 300 TA positions appointed during the past year, we had 15 TAs nominated for this honor, but could choose only 10 to win the award. The list below includes all of the TAs who were nominated, the names of those faculty members who wrote letters of nomination, and the courses the TAs helped teach. The TAs who were chosen by the selection committee to receive a TA Award are in bolded green text and can be seen in the photo below. Every one of these students has demonstrated exceptional qualities in the classroom.

We would like to thank these TAs, both the award winners and those nominated, for being outstanding teaching assistants. TAs are an integral part of the teaching experience and you have gone above and beyond what has been asked of you. Thank you!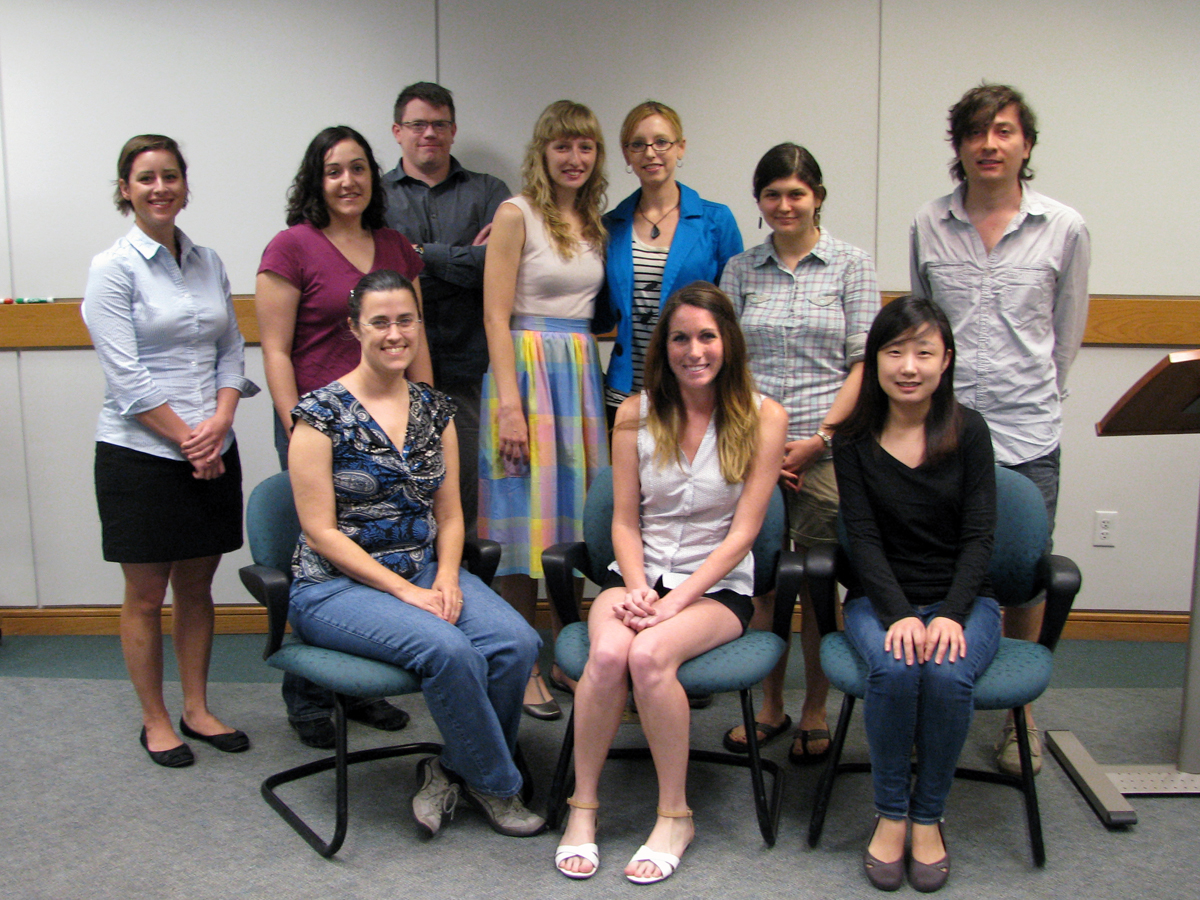 The 2013 School of Biological Sciences TA Award Winners. Top row (from left to right): Roxana Capper, Charmaine Brown, Jacob Malcom, Sandra Pelc, Aimee Talarski, Gina Calabrese, Oscar Vargas Hernandez. Bottom row (from left to right): Cynthia Londeore, Stephanie Patchett, Sunhee Lee. More photos from the awards ceremony can be found here.
Teaching Assistant
Nominator(s)
Class(es)
Class Title(s)
Charmaine Brown
Hans Hofmann
BIO 206L
Lab Exp in Bio: Struc/Func of Org
Mitchell Butler
Inder Saxena
BIO 320
Cell Biology
Gina Calabrese
Eric Pianka
BIO 357
Evolutionary Ecology
Roxana Capper
Nicola Davies
BIO 344
Molecular Biology
Dae Kwan Ko
Inder Saxena
BIO 325
Genetics
Tian Lan
Hans Hofmann
BIO 206L
Lab Exp in Bio: Struc/Func of Org
Sunhee Lee
Pratibha Saxena
BIO 326R
General Microbiology
Cynthia Londeore
Anita Latham
BIO 311C
Introductory Biology I
Seena Mathew
BIO 311C
Introductory Biology I
Jacob Malcom
Peter English
BIO 340L
Biology of Birds
Shubhankar Nath
John Batterton
BIO 325L
Genetics Lab
Stephanie Patchett
Inder Saxena
BIO 320
Cell Biology
Sandra Pelc
Bill Allen
BIO 206L
Lab Exp in Bio: Struc/Func of Org
Stephanie Spielman
Claus Wilke
SSC 328M
Biostatistics
Aimee Talarski
John Batterton
BIO 325L
Genetics Lab
Oscar Vargas Hernandez
John Batterton
BIO 325L
Genetics Lab
Posted by Steve Franklin